HIV can not be cured. However, by means of the effective and well-tolerated therapy a normal life expectancy is possible.
The HI virus is well suppressed in the body by the regular intake of medicine (antiretroviral therapy) and thus can not multiply. It is important to reliably take the therapy every day.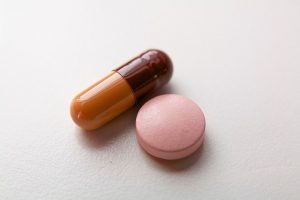 Nowadays, an HIV-positive person takes 1-3 pills every day.
These prevent the multiplication of the HI virus.
The costs for the medicines are covered by the respective health insurance. In Styria, the LKH Graz Süd-West, Standort West is responsible for the treatment of persons with HIV-positive status. Generally, appointments take place every three months at the responsible special clinic – we gladly establish contact, accompany you as needed and advise you in medical matters.
Further reading: Links
Pamphlet "Sex Positiv – Informationen für Menschen mit HIV" (AIDS-Hilfe Germany)
Detailed information about HIV and sexuality, and having children: www.aidshilfe.de/shop/sex-positiv
Pamphlet "Positiv gesund leben – Informationen für Frauen mit HIV" (AIDS-Hilfe Germany)
Pamphlet especially for women with HIV (infection und coinfection, therapy, safety precautions during sex, gynecological care, having children, HIV in everyday life): www.aidshilfe.de/shop/positiv-gesund-leben
Pamphlet "Positiv schwanger" (AIDS-Hilfe Germany)
Pamphlet on HIV and pregnancy: www.aidshilfe.de/shop/archiv/positiv-schwanger-0